Power Up

If you've played old ST games like Super Cars or maybe Micro Machines on other platforms then you'll be instantly at home with Power Up.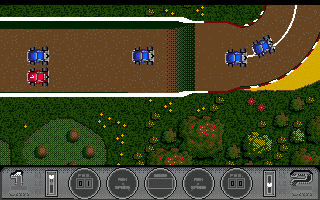 Power Up is a top-down racing game where your objective is to win! It is designed to run on almost all Atari platforms and manages to take advantage of any additions you have made to your system. It features a 32 colour display - even on the STFM, and stereo soundtracks on the STE, TT and Falcon. You can even get stereo on the STFM via your hifi and one of the sound replay cartridges around.
Control is achieved via either the keyboard, joystick or Jaguar Powerpad (if your system supports it). There are 60 tracks for you to race on either by yourself or with a friend. Power Up is extremely configurable - even down to the quality of the music and sound effects and also features a built in track editor.
All this is fair enough, but how does the game play?
Well, the answer is unfortunately not as well as you'd expect. The game isn't particularly smooth, even on the Falcon, and the graphics are not anything spectacular. The two player mode, whilst being a good addition, is affected by a small amount of slow down.
It's not all bad though. Power Up is still a pretty good game which does offer a challenge. The controls are nice and responsive and enable you to drive your car around the track quite accurately. The changes in scenery add variety to the game albeit in a limited form!
The computer cars are not very intelligent but thankfully they still put up a bit of a fight!
The Track Editor is a nice addition and is fairly easy to get to grips with. It did crash a couple of times on my STE, but on the Falcon it ran flawlessly.
There is a password feature so you can continue where you left off, and their are four different modes of play involving either one or both players.
All in all, Power Up is a worthwhile game. It may not be the most advanced Atari game you'll play but the number of features it offers will make sure you'll come back to it again and again. Its just a pity it wasn't a bit smoother but it isn't that much of a problem...

Power Up
Racing Game

79%

MC Soft
£12.00 (p&p: £1-UK £2-Europe £3-ROW)
All Atari's, Enhanced on STE/TT/Falcon, HD Installable, Colour Display

UK Distribution:
Floppyshop
PO Box 273
Aberdeen
AB15 8GJ
Scotland
UK

Other Contacts

Author, Marek Cichoñ, cichon@rtime.felk.cvut.cz
Czech Distrbution, Karel Rouls ml, Karel_Rous@p11.f16.n421.z2.fido.cz
Australia/New Zealand, Anthony Green, ac_green@tassie.net.au
France, STeam-T.R.BUZ, trbuz@aol.com
USA, Systems for Tommorow, sales@SystemsForTommorow.com
Colin Polonowski
---
Aus:Atari Times 11 /, Seite
---